Featured in:
ROX Episodes
Programs
Recent Commentary by Ed
Production Notes
Reviews
Current Location:
New York City
Vital Statistics
Real Name:

Ed

Birthplace:

Origin of the World

Education:

Meditation in a red hot moist bloody throbbing womb.

Distinguishing Marks:

Flattered to have a place here!

Current Job(s), Length Held:

Last seen (before going underground) performing in Brooklyn (a farewell MEAT POETRY reading in Brooklyn in July (2005) just before he left! [the link takes you to a few pictures from the PRE-Farewell show. [At some point he hopes to post pictures from the Encore performance, too, but just hasn't gotten around to it, what with the move and all. Speaking of moving, check out ROX #91])]

Previous Job(s), Length Held:

Excoriator magnus.

Last Book Read (and opinion in 4 words or less):

handbook to the Josephinum

Last Video Rented (and opinion in 4 words or less):

the Passion (Aug 2005), actually a version missing the subtitles -- which, then again, I didn't need, since I already read the BOOK. So, my verdict: What a godforsaken mess!

Political Orientation:

pulsating

Religious Affiliation:

Meataphysics

Musical Instrument(s):

Scratchy throat.

Favorite Music/Band(s):

Latent Chaos, hands down.
Everything on the Bob Chaos label. (See BOB CHAOS, which provides MP3s of a lot of good stuff [my favorite tape: Rarities])
As the Walking Ruins (another great band) used to say, "Local Music is Good Music!"
Everything on the 4AD label (e.g., very cool Bloomingtonian LISA GERMANO).
And of course, Einstürzende Neubauten!
[And etc. etc., usw. usw.]

Favorite Techno-Fetish-Object:

Memory stick--which pushes into my memory sponge.

Favorite Sport/Activity:

talking to myself, muttering in the subway, humming on the sidewalk, reading while crossing the street

Favorite Drug(s):

noise

Favorite Mixed Drink(s):

A "B & B." Or, a Shirley Temple (or, when I feeling really manly, a Roy Rodgers).

Personal Motto/Excuse:

Bitte eine Nachricht hinterlassen, nach dem Piepton.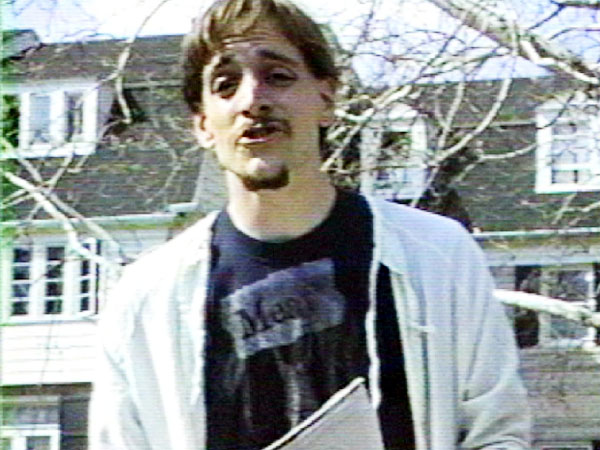 Ed the Meat Poet reads from his classic poem, "Urinate and Defecate."

Other resolutions: 240x180


Media for Ed:
Not yet...
Pix for Ed: