This is definitely a beginner's kind'a drink, better for getting high on sugar than getting drunk.

But hey, this is Worm's 21st birthday, so of COURSE she's a beginner, since we would never hang out with people who drink before they're legal.
ice
banana
some lime juice
rum (pour it all in)
2 oz. creme de banana
Combine ingredients in blender. Blend.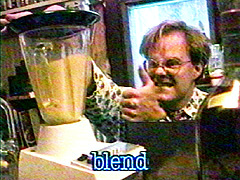 J blends up a banana daquiri for Worm's 21st birthday party.